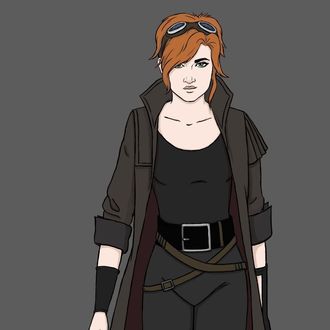 Niamh Malone
The Singer
(Niamh pronounced Nee-ve,) Gets really pee'd off with people asking how to pronounce her name.
Human. Irish, feisty, outspoken Celtic misfit. Niamh is a maverick, a free spirit. Her origins are a bit of a mystery.
Likes owls, Bruce Lee films and knitting long, scruffy scarves for all the band that nobody wears except Travis & Spekky who is far too polite to say otherwise.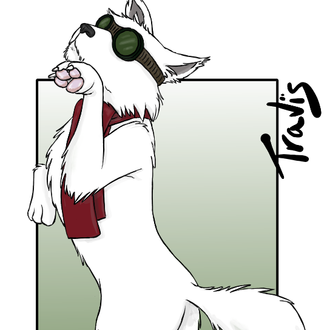 Travis The Blade
The Mascot
Band mascot and Niamh's trusty sidekick & best friend. Dog of the Heinz 57 variety. Loyal, savvy, quick-thinking and fearless. Loves cheese, Jammie Dodgers and crossword puzzles. Lost one of his hind legs in an 'incident' involving Niamh. Now has a blade in place of his leg. Snores loudly during band practice. 
Wears his Mad Max/steampunk flying goggles and a scarf (yes, it's one of Niamh's efforts).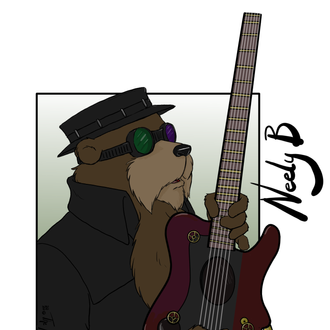 Neely B
The Guitarist
Grizzly bear….  Grumpy when he's hungry, curmudgeonly, shy (except when he's onstage and then he turns into Slash from Guns n' Roses, even if it's a country song!
Likes biscuits & playing online golf with his friend Archie in Taiwan.
Loves wearing his long duster coat as he thinks he looks just like Clint Eastwood in For A Few Dollars More.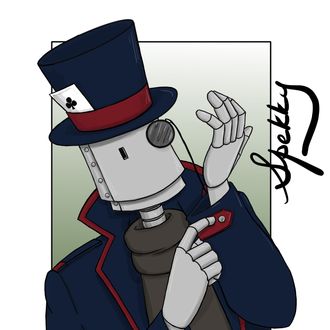 Spekky a.k.a. Specification 555
The Keyboard Player
AI/robot…..precise but clumsy, sweet-natured & calm under pressure. 
Likes the snow. Has hot flushes. Loves Downton Abbey and Strictly Come Dancing. Wears a lot of Scarves, hence the hot flushes! Wears a little black monocle and a pocket watch. Wants contact lenses.
Spekky was an obsolete AI, thrown into a large waste disposal container. Found by Neely B, he was rebuilt (using whatever was to hand) and saved from the crusher.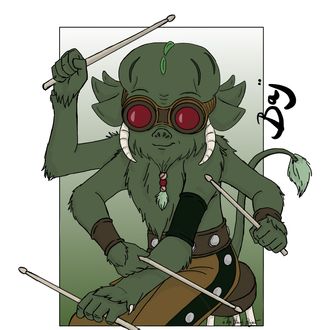 Baj
The Drummer
An alien (and somewhat feral) being from a now destroyed planet. Stranded for light years in an escape pod, he roamed the galaxy foraging for scrap. Came to Earth through a time/space anomaly and never went back, hence the intergalactic police are on his tail...literally. This dude is seriously cool. Has acquired an extensive collection of Reggae music, since coming across a time capsule from Earth-circa 1989 inspired his love of Bob Marley, Eddie Grant and Aswad.
Mischievous & uncontrollable.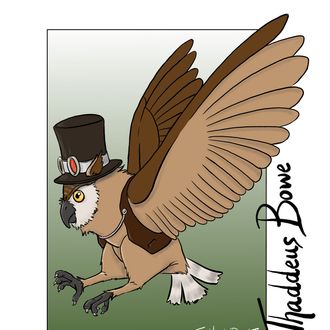 Thaddeus Bowe
The Guardian
Owl, of the ancients.
Mysterious, often absent for long periods of time (or is he?) Sent to guard Niamh. Possesses magical powers. Shapeshifter and seer.